Kariné Poghosyan - Concert Pianist - New York
What does a concert pianist do when faced with the prospect of not being able to play to live audiences for the foreseeable future?
If you're Kariné Poghosyan you do what you love in the only way you can. Every Friday night since mid March 2020, Kariné has been bringing her incredible talent to the world though a series of mini concerts directly from her home in New York.
As if this wasn't enough, she brings the stories behind the music and the composers to life with her trademark passion and energy. Truly a unique talent, Kariné is an artist not to be missed!
Join Kariné and fans from around the globe every Friday night for a classical feast delivered like no other!
Daily behind the scenes videos and special performances!
Help keep the wonderful music alive!
Most Recent Mini Concerts
#70 - Beethoven "Appassionata"
Armenian-American pianist Kariné Poghosyan's most recent concerts include two sold-out recitals at Zankel Hall at Carnegie Hall, the second of which was a CD Release concert of her "Rachmaninoff and Stravinsky" recording on Centaur Records. This recording has since garnered rave reviews, with Gramophone Magazine praising its "masterly textural layering and resounding climaxes," and the American Record Guide stating that "a more heroic program would be hard to find, and few could play as well as the Armenian-American Poghosyan."
The renown pianist and WWFM radio host Jed Distler described her performance in the following way, "This is big piano playing, but big in the sense of being in the moment, being present, and totally owning her vitality and imagination."
Oscar-winning screenwriter Alex Dinelaris said, "Listening to and watching Kariné Poghosyan play fills one with life and energy. The combination of her formidable skill and her unchecked passion is an experience I recommend for anyone who needs to be reminded of the artist and art within themselves."
Since the very first week of the New York City lockdown in March 2020, Ms. Poghosyan has launched a weekly livestream mini concert series on her Facebook page, with an entirely new 30-minute program performed each week for a loyal world-wide following.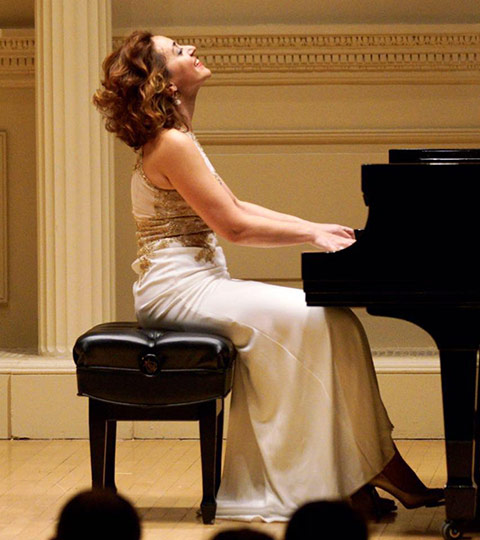 Daily behind the scenes videos and special performances!
Help keep the wonderful music alive!