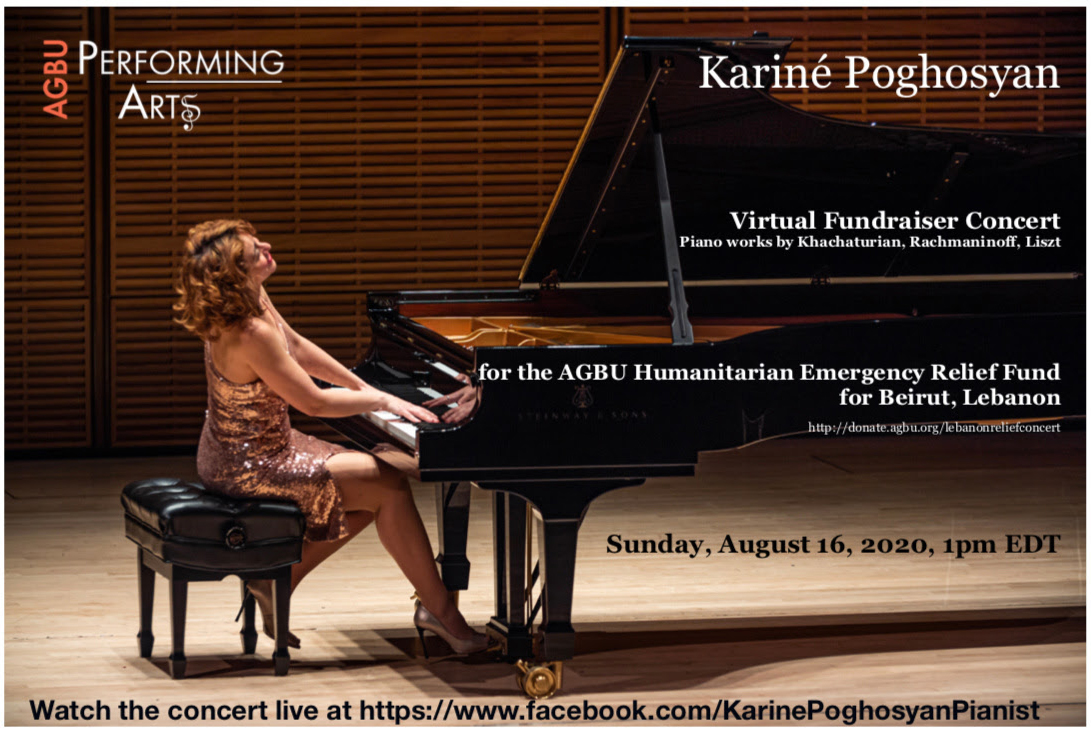 This Sunday, August 16, at 1pm EDT,
AGBU Performing Arts Department
is thrilled to present 
Kariné Poghosyan, Pianist
and 
AGBU
Performing Arts Scholarship alum, in a live, online performance benefitting the AGBU Humanitarian Emergency Relief Fund for Lebanon. All proceeds will help with the immediate needs of thousands of Armenians in Lebanon, by providing food, shelter, medical aid and home repairs - as well as by planning for their long-term needs for tomorrow.
Watch the concert live at
https://www.facebook.com/KarinePoghosyanPianist
---
The Armenian-American pianist Kariné Poghosyan will perform a virtual fundraiser concert on her Facebook page to benefit the AGBU Humanitarian Emergency Relief Fund for Lebanon, on Sunday, August 16 at 1pm EDT. The Program will include piano works by Khachaturian, Rachmaninoff, and Liszt.
100% of all donations will be directed to AGBU's relief efforts in Beirut, including the provision of food, medical aid, temporary shelter, and support for home repairs.
Ms. Poghosyan performed two solo recitals at the Zankel Hall at Carnegie Hall last year to high acclaim, most recently on November 4, in connection to the release of her "Rachmaninoff and Stravinsky" recording on Centaur Records. She was praised by the Gramophone Magazine for her "masterly textural layering and resounding climaxes, where she strikes a judicious balance between control and abandon."
The renown pianist and WWFM radio host Jed Distler remarked, "This is big piano playing, but big in the sense of being in the moment, being present, and totally owning her vitality and imagination." And the Oscar-winning screenwriter Alex Dinelaris said, "Listening to and watching Kariné Poghosyan play fills one with life and energy. The combination of her formidable skill and her unchecked passion is an experience I recommend for anyone who needs to be reminded of the artist and art within themselves." She has also started the innovative 
#365dayproject
 on her Patreon page, in which she creates and posts daily mini-performance videos.
Kariné Poghosyan - Concert Pianist - New York
Kariné Poghosyan is a concert pianist currently based in New York.
Faced with the prospect of an undetermined period away from her audiences, Kariné takes herself to the audience wherever they are around the world with this incredibly intimate performance from her Manhattan apartment. It doesn't get more close up than this!